Martyn Wares wunderbare Coverversionen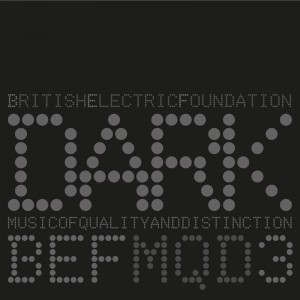 -Compilation-Serie Music Of Quality And Distinction bekommt nach Volume 1 aus dem Jahr 1981 und Volume 2 aus dem Jahr 1991 nun endlich einen dritten Teil: Volume 3 mit dem Thema "Dark" erscheint am 07.06.2013 bei Wall Of Sound im Vertrieb von AL!VE.
British Electric Foundation ist Martyn Wares Produktions-Alias, das er sich kurz nachdem er The Human League verlassen hatte und Heaven 17 gegründet wurde, zulegte. Die legendäre Music For Stowaways-Kassette und die beiden Music of Quality & Distinction-Alben aus den Jahren 1981 und 1991 wurden zum absoluten Kult, da sie Kollaborationen von Künstlern wie Tina Turner, Sandie Shaw, Erasure, Terence Trent D'Arby und vielen anderen enthielten.
Nach einem von der Kritik umjubelten Live-Auftritt von B.E.F. im Londoner Roundhouse im Oktober 2011 ging Martyn Ware an die Arbeit für die dritte Ausgabe. Sie hat das Thema "Dark" und enthält dunkel bis düstere Interpretationen von Songs, die im Original eher eine Upbeat-Richtung hatten. Neben bekannten Künstlern wie Boy George, Sandie Shaw oder Green Gartside stehen aktuelle Namen wie Kate Jackson, Polly Scattergood oder Max Pokrovsky. "The album will consist of very dark versions of tunes that have to be of a certain type," sagte Ware über seine Arbeit am Album. "It's dark reinterpretations, primarily looking at things differently, from a lyrical point of view. It's almost like a soundscape in much the same way as 'You've Lost That Loving Feeling' on the Human League's first album 'Reproduction'."
Das tolle Tracklisting liest sich folgendermaßen:
01. Every Time I See You I Go Wild (by Stevie Wonder) – Kim Wilde
02. Didn't I Blow Your Mind This Time (by The Delfonics) – Green Gartside
03. Don't Wanna Know (by John Martyn) – Sarah Jane Morris
04. Picture This (by Blondie) – Kate Jackson
05. Breathing (by Kate Bush) – Andy Bell
06. It Was A Very Good Year (by Frank Sinatra) – Glenn Gregory
07. I Wanna Be Your Dog (by Iggy Pop) – Boy George
08. Same Love (by Bill Withers) – David J Roch
09. God Only Knows (by The Beach Boys) – Shingai Shoniwa
10. Make Up (by Lou Reed) – Boy George
11. Walk In My Shoes (by Gladys Knight and The Pips) – Sandie Shaw
12. The Look Of Love (by Dusty Springfield) – Polly Scattergood
13. Party Fears Two (by The Associates) – Glenn Gregory
14. Smalltown Boy (by Bronski Beat) – Billie Godfrey
15. The Day Before You Came (by ABBA) – Max Pokrovsky
16. Copilot To PIlot (by Teena Marie) – Kelly Barnes
In Großbritannien wird British Electric Foundation zwei Konzerte spielen:
03.10.2013 London / O2 Shepherd's Bush Empire
04.10.2013 Sheffield / O2 Academy
Weitere Tourdaten sind in Planung.
Weitere Informationen:
http://www.heaven17.com/bef/
https://www.facebook.com/BritishElectricFoundation
http://martynwareblog.blogspot.de/